C.A.T.S. (Concerned About Teen Success) is a program for you and your friends. People volunteer to be in C.A.T.S. during high school. It's fun and you will really make a difference and help people.
Here's proof: "C.A.T.S. taught me that sexting is more dangerous than I thought." "I loved the program, it kept us entertained."
The whole point of C.A.T.S. is to give you the opportunity to learn more about making healthy decisions, avoiding risky behaviors, and talking about it! (We provide how-to).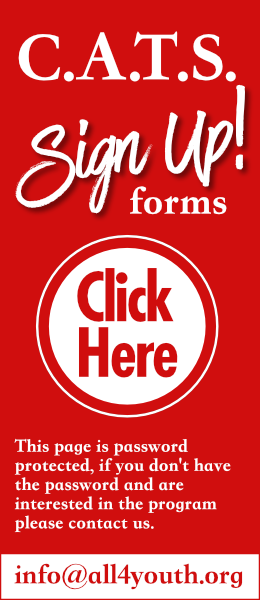 C.A.T.S. members (you?) travel to area middle and high schools each week during school to give talks to students in classrooms to help them make healthy decisions and avoid risky behaviors too.
Simple! You choose the topic you think will help others the most (bullying, alcohol, other drug use, waiting for sex, healthy relationships, etc.).
Want to join us? Use the red button on this page to fill out an online application, and one of the C.A.T.S. staff will contact you soon for an Orientation. Easy!
By the way, you'll meet lots of new people, make friends, get community service hours, eat free food, receive prizes, get public speaking experience, and attend the yearly celebrations (with awards!).